Having a reliable printer is essential for both home office professionals and creatives. Whether you need to print reports, invoices, or design projects, it's important to invest in a printer that can meet your specific needs. In this article, we will explore the top picks for printers in both categories. So, whether you're looking for a printer for your home office or one that can handle your creative projects, we've got you covered.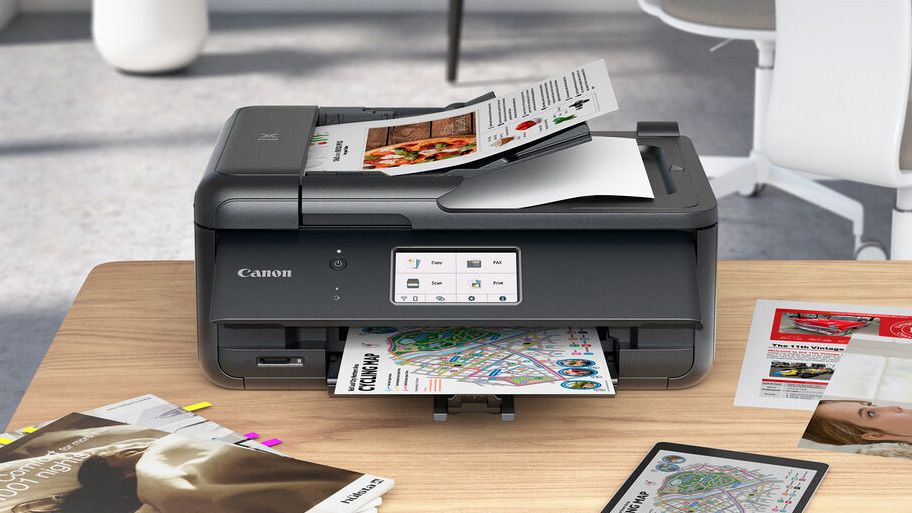 Best Printers for Home Office
When it comes to home office printers, reliability and efficiency are key. Here are our top picks:
HP OfficeJet Pro 9015: This all-in-one printer offers fast printing speeds, high-quality prints, and a user-friendly interface. With its wireless capabilities, you can easily print from your smartphone or tablet. Plus, it has a built-in document feeder, making it ideal for scanning and copying multiple pages.

Epson EcoTank ET-4760: This printer stands out for its cost-saving features. With its large ink tanks, you can print thousands of pages before needing to replace the ink. It also offers automatic two-sided printing and comes with a two-year supply of ink, making it a great value for money.

Canon PIXMA TR8520: Compact yet powerful, this printer is perfect for small home offices. It offers high-quality prints and a wide range of connectivity options, including Wi-Fi and Bluetooth. With its five-color ink system, you can achieve vibrant and detailed prints.
Top Picks for Creatives
Creatives often require printers that can handle different types of media and produce high-quality prints. Here are our top picks for creative professionals:
Epson SureColor P800: This professional-grade printer is perfect for photographers and graphic designers. It uses Epson's UltraChrome HD pigment inks, which deliver stunning color accuracy and longevity. The printer can handle various media sizes and thicknesses, allowing you to print gallery-worthy prints.

Canon imagePROGRAF PRO-1000: Another excellent choice for creatives, this printer produces exceptional color accuracy and detail. It uses a 12-color LUCIA PRO ink set, resulting in vibrant and true-to-life prints. The large color range allows for smooth gradations and precise color reproduction.

HP ENVY Photo 7155: This versatile printer is suitable for both everyday tasks and creative projects. It offers convenient wireless printing, a built-in SD card slot, and a touch screen display. With its six-color ink system, you can print vibrant photos with stunning detail.
Printers for Home Office and Creatives: Our Recommendations
If you're looking for a printer that can handle both home office tasks and creative projects, here are some recommendations:
Brother MFC-J895DW: This all-in-one printer is perfect for those who need a versatile machine. It offers fast printing speeds, automatic two-sided printing, and wireless connectivity. The printer also has a bypass tray, allowing you to print on different media types.

HP OfficeJet 5255: This printer combines functionality and affordability. It offers high-quality prints, wireless printing capabilities, and a built-in document feeder. With its Instant Ink subscription service, you can save money on ink replacement.

Epson Expression Photo XP-8600: This compact printer is designed for both office use and creative projects. It prints stunning photos and offers wireless printing, making it convenient for any task. The printer also has a CD/DVD printing tray, allowing you to customize your media.

Here39s how to choose the right printer for home or work backed by our top labtested Picks By M David Stone Updated August 18 2023 RELATED Best Cheap Printers Best Lasers BestBest Home Printers 2023 Top Picks For Home Offices amp More TechRadar Pro Best home printers for remote working home offices and more in 2023 Best By Collin Probst140 When you shop through retailer links on our site we may earn affiliate commissions 100 of the fees we collect are used to support our nonprofit mission Learn more Left to right The129 at Amazon Peoples Choice Bestrated inkjet printer according to Amazon reviews Canon PIXMA MG3620 Wireless AllInOne Color Inkjet Printer 80 Although some reviewers report issuesCanon Pixma TR4720 at Amazon Jump to Review Best Small Home Printer HP DeskJet Compact AllinOne

Printer at Amazon Jump to Review Best Wireless Home Printer HP OfficeJet Pro AllinOne Printer at Amazon Jump to Review Best Monochrome Home Printer Brother Monochrome Laser Printer at AmazonLooking for a fast printer for your home office Check out what experts recommend based on ease of use wireless and top features Written by Allison Murray Staff Writer and SherinThe 5 Best Home Printers Summer 2023 Reviews Updated Aug 15 2023 at 0453 pm By Ryan Lim When shopping for the best printer for home use you39re likely looking for something versatile enough to satisfy everyone39s needsAfter thoroughly testing 11 models across different printer types and prices I chose the HP OfficeJet Pro 9015e as our best home printer overall For the best value pick I chose the
Whether you need a printer for your home office or creative work, there are plenty of options available to suit your specific needs. From all-in-one printers for home offices to professional-grade printers for creatives, you can find the perfect printer to enhance your productivity and creativity. Consider your requirements, budget, and desired features when choosing a printer. With the right printer by your side, you'll be able to print with ease and confidence.